In the year 2006, a beautiful little girl was born to a lovely family in Katana Negombo. Everything went perfectly well, little did they know, when this baby turned two she was diagnosed with kidney disease.
Wasana was a champ, she studied very well and participated in many extra-curricular activities in school. So, her family didn't believe she had any sickness because she was not symptomatic.
A few years down the line, as she reached 10 years, Wasana could not keep up with the school work, found it difficult to breathe, and couldn't eat normal food as her friends could due to kidney failure. She dropped out of school at the age of 10. She was presented to Sri Jayawardenapura General Hospital at the age of 15 years with end-stage kidney failure needing dialysis.
After commencing dialysis, Wasana was fighting a battle between life and death.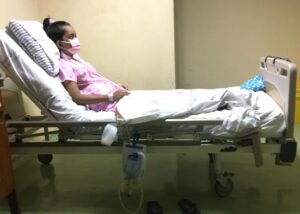 Wasana needed a kidney transplant, both her parents were diabetic, and therefore they could not donate a kidney. Her only sister was rejected as she was not a match. Doctors tried really hard to keep Wasana alive with dialysis.
On the 30th of September 2021, her family received a call from the hospital regarding a possible brain-dead patient awaiting organ donation and that Wasana's blood being cross-checked. Wasana underwent a successful kidney transplant from a brain-dead donor. She received a new life all thanks to the greatest hero she never knew who donated his kidney and saved her life.
"I want to thank the person who donated this kidney to me and also I want to thank his family members who agreed to donate his organs. They all saved my life like gods.
Wasana's story in her words
වාසනාගේ කතාව ඇගේ වචන වලින්.
"I want to thank everyone who gave me a new life.
God Bless You.!"
Story of the youngest kidney transplant patient
ලාබාලතම වකුගඩු බද්ධ කළ දරුවාගේ කතාව කෙටි වීඩියෝ පටයකින්
Her sister's words about Wasana's story.
වාසනාගේ කතාව ගැන ඇගේ සහෝදරියගේ වචන වලින්.